Get in touch with Rode Hoed
The Rode Hoed is a professional full-service events venue located on the historic UNESCO World Heritage canals of Amsterdam. Imaging a board meeting, an international congress or even a romantic church wedding; seven diffirent halls, a spacious foyer with a beautiful café, and perfectly accessible on foot, by bicycle, car or boat: with a capacity of 450 persons. With our in-house professional kitchen of organic dishes we serve our guests delicious lunches and upscale diners. Our experienced technicians make sure that everything runs smoothly at your event.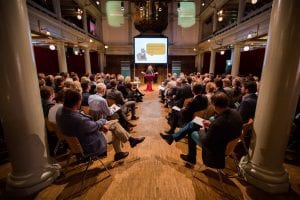 The Ancient Greeks had the Agora and the Romans the Forum. Here in Amsterdam we have the Rode Hoed that stands in a 400 year old tradition of facilitating an influx of idea's. The Rode Hoed is a keen watcher and booster of societal debates and also a producer of debates, symposia, literary and even musical gatherings. In fact, our Oosterhuiszaal resonates a beautiful acoustic sound. We've become famous in the Netherlands for our cultural programming and therefore often have the honour to welcome the very elite of the Dutch policital, cultural and intellectual society in our midst.
Facts
Audio Visual
Catering
Furniture
Protected Wifi
Airconditioning
Heating
Boat dock
Bus stop on walking distance
Tram stop on walking distance
Train station on walking distance
Parking
Hotel service
Official wedding location
Accessibility for the disabled