Get in touch with De Nieuwe Liefde
Totally renovated the premises, erstwhile 'Theater de Liefde' ('Theatre the Love'), located at Da Costakade in Amsterdam. With its spatial, airy and stylishly corporate image, forms an inspiring environment for conferences with break outs, presentations, meetings, dinners and receptions. De Nieuwe Liefde is also perfect for informal gatherings such as parties and weddings. A multidisciplinary venue for productive cross- influencing.
By organizing your event in De Nieuwe Liefde you contribute to public interest programmes being created in De Nieuwe Liefde. The public interest programming is financed by commercial activities.
Our venue has six rooms holding 8 to 375 persons. It features original stained-glass windows an impressive staircase and exclusive paintings. All floors are visually linked via an open space and wheelchair accessible. One lift and two stairwells provide access.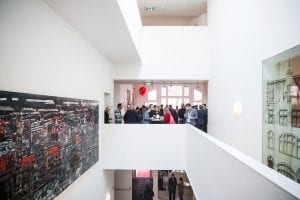 Facts
Audio Visual
Catering
Furniture
Protected Wifi
Free Wifi
Cooling
Bus stop on walking distance
Tram stop on walking distance
Official wedding location
Accessibility for the disabled